Sean Hall promoted to GM at Morrells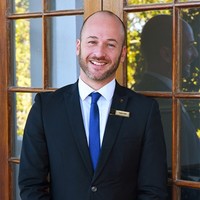 Morrells Boutique Estate has promoted Sean Hall to the position of General Manager.
The appointment is a promotion from the role of F&B Manager, which he has been fulfilling since joining the property a year ago.
Born and raised in Durban, Sean worked in the UK for seven years, gaining experience at exclusive hotels such as Sir Christopher Wren's House Hotel in Windsor and Ettington Park Hotel in Stratford-upon-Avon. As Sean puts it, "These were two of the stand-out hotels for me, where I learnt what five-star service was all about."
On his return to South Africa, Sean decided to get his Pilot's license. Not because he was planning to leave the hotel industry, but rather to gain knowledge and experience from the discipline required. "I was also very interested to see if I could cope with this stress," he says, adding "My thinking was that if I could cope with flying, I could cope with most stress. It tuns out I did cope, and here I am today, the flying GM."
A five-year stint in the Cape took Sean to "amazing places" such as Franschhoek and Constantia. "My favourite experience there was at Cellars Hohenort, a Relais & Chateaux member, where I was exposed to Peter Templehoff, one of the top chefs in SA and host of the renowned Green House Restaurant."
He concludes, "It was only a year ago that I had the amazing opportunity of heading up Morrells Boutique Estate offered to me. When I saw what a unique property it is, in the heart of Northcliff, it really was an easy decision for me."
Morrells Boutique Estate encapsulates an escape to Provencal France. It has 16 guest rooms and is a gorgeous wedding venue.