Point Squared Shuttles joins Red Stamp Club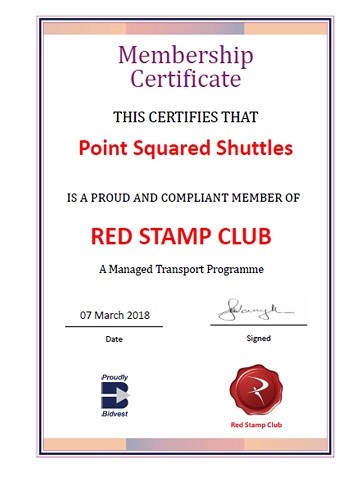 Point Squared Shuttles was recently accepted as a member of the Rennies Travel Red Stamp Club.
The Red Stamp Club programme strategically supports industry transformation objectives in an exciting new way. The key objective of the programme is to transform, uplift and develop Exempted Micro-Enterprises (EME's) and Qualifying Small Enterprises (QSE's) in the tourism industry in South Africa. To do this, it incorporates an accommodation component featuring Guest Houses, Bed & Breakfasts and Boutique Hotels, as well as a transport component, featuring shuttle and transfer services.
Corporates can secure transfer bookings through their travel desks or consultants at Rennies Travel or BCD. As a Level 1 B-BBEE SME, Point Squared Shuttles was recognised as a supplier that differentiates itself on service and value when accepted as a member of the Club.
You can contact Ashley at Point Squared Shuttles here to find out more.