Member Profile : Fairlawns Boutique Hotel & Spa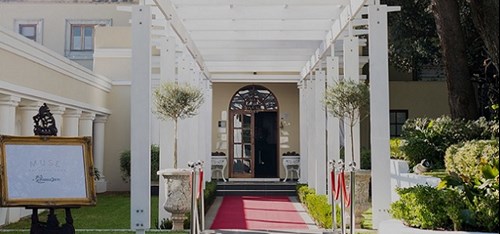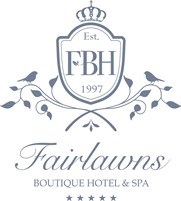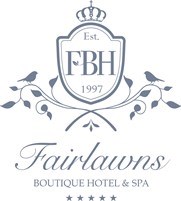 Fairlawns Boutique Hotel & Spa has been transformed over the years from a ten-acre family home into the 41-suite luxurious hotel that welcomes guests in Morningside, Sandton. Now encompassing three acres, the hotel has undergone a renovation and emerged as a contemporary, colourful, chic and slightly quirky iconic property whilst remaining true to the charm and sophistication that have always been synonymous with this 19-year old property.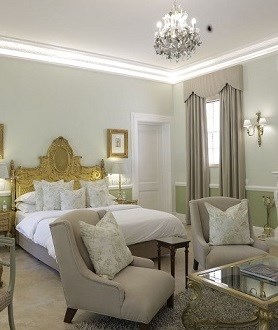 Managing Director Michael Kewley says, "Fairlawns was one of the first five-star boutique hotels to be opened in Johannesburg. It has grown from a staff complement of 13 to just over 100 today. Originally the Oppenheimer Estate, Fairlawns still exudes a park-like ambience with huge trees and prolific birdlife, but now boasts 40 suites, a presidential spa apartment, two restaurants, a Balinese spa, a conference centre and a fitness centre."
Each of the suites at Fairlawns has a different theme and has been named accordingly; for example, the Empire suite has been renamed 'Azzura' due to the beautiful blue shades used throughout the suite. The suites offering comprises 20 Grand Chateau suites, 12 Courtyard Suites, six Villa Suites, a two-bedroom Tree Top Studio, the Maison Spa Suite and Villa Moji.
Grand Chateau suites are situated in a separate wing and are perfect for groups travelling together as the wing has direct drop-off access. These suites are one of the latest additions to the hotel and the wing offers special needs access as well as an elevator. Courtyard Suites are newly refurbished and situated in a U-shaped Palladian-style building. They include a Honeymoon Suite featuring an over-the-top canopied bed which is a copy of one seen in the Palace of Versailles. Villa Suites overlook the rolling lawns and pool and feature a communal breakfast terrace. The Tree Top Studio is an ideal family suite and boasts its own state-of-the-art kitchen, lounge and dining room.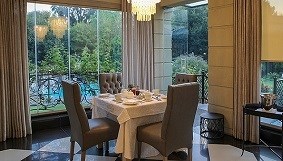 Maison Spa Suite was previously known as the Presidential Spa Suite and boasts two private en-suite bedrooms, a formal lounge, formal dining room, kitchen, study and spa suite for private spa treatments. It also has a discreet private entrance and private parking facilities. Villa Moji is a stand-alone Villa and ideal for exclusive private stays. It is fully serviced with two en-suite bedrooms, set in its own secluded garden with private swimming pool, private access and extra security. A butler and chef service are available on request.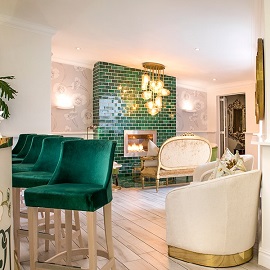 Dining at Fairlawns is a culinary delight and guests can choose between Amuse-Bouche and Manor House Bistro. Amuse-Bouche boasts a sophisticated à la carte menu, paired with a Diamond Award-winning wine list.  More casual, al-fresco dining is the order of the day in Manor House Bistro, which features a contemporary, eclectic setting. Manor House Bistro serves breakfast daily, as well as morning and afternoon tea. Both restaurants are open to the public for bookings. 'Into the Woods', the private dining room for up to 12 guests, brings the outside in with its décor featuring a recreation of a Birchwood forest. Muse Champagne Room is the latest addition to the hotel and is collaboration with French Champagne house, Pierre-Jouët. Along with its adjoining courtyard, it's the perfect place for sundowners and is a sumptuous mix of things elegant and contemporary, using nature as its source of inspiration.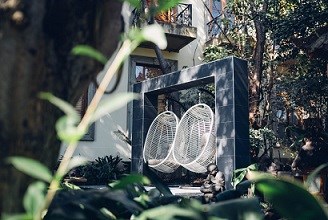 The award-winning Balinese-style spa at Fairlawns has recently undergone renovation. It is set in exquisite bamboo forest gardens and is the perfect place to rejuvenate, relax and restore your body. It offers a range of therapies and Asian-inspired treatments, performed by a team of skilled therapists.
The conference centre at Fairlawns has been fitted with the latest conference technology and is located apart from the main hotel building. The Aloe room can accommodate up to 60 delegates and is ideal for conferencing or banquets. Strelitzia is a 150 sqm venue with elegant finishes and is the perfect venue for more intimate, sophisticated corporate or private functions. Event co-ordinators are on hand at the hotel to assist with planning any event or conference. It also caters for up to 60 guests. The Protea Boardroom can host up to 14 delegates. The main hotel building also feature a Business Suite which can accommodate up to 10 delegates.
Fairlawns recently won the 'Luxury Boutique Hotel' category of the World Luxury Hotel Awards. Kewley rightly says, "This is testament to the fact that we are a local establishment with global appeal."
The gardens and pool area are currently undergoing an upgrade which will be completed later this year, "just in time for the launch of our Mad Hatters tea parties and Spring picnics, Lazy Days and Lawn Blankets" says Kewley. Guests can enjoy private gazebos, croquet, picnic blankets and a harvest table on the last Sunday of every month in the gardens says Kewley.