Meetings Africa to remain at Sandton Convention Centre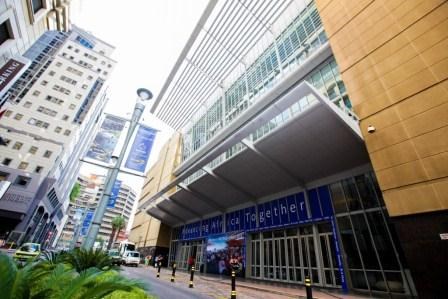 SCC lands five-year bid to host Meetings Africa
Sandton Convention Centre has won the coveted bid to host Meetings Africa for the next five years, having had 12 successful years of hosting what has become the continent's largest business tourism event.
Meetings Africa is the showcase for Africa's diverse offering of global meetings services and products, and is an iconic industry event, highlighting Africa's steady climb in the world rankings as a preferred business destination.
Stressing the vital importance of business and leisure tourism in Africa, then Minister of Tourism, Derek Hanekom said at Meetings Africa 2017: "Last year 58 million international tourists arrived in Africa – an increase of 8% over 2015 stats. Sub-Saharan Africa led the growth, with an 11% increase. The UN World Tourism Organisation is confident that international tourist arrivals in Africa will grow by between 5% and 6% in 2017. Travel and tourism now contribute around 3.3% to Africa's GDP and supports over 9 million jobs directly or 3% of total employment."
Ravi Nadasen, Chief Operating Officer, Hotels, at Tsogo Sun, says the Tsogo Sun Sandton Mile, incorporating three hotels and the SCC, is proud to have been selected to host Meetings Africa and accommodate delegates for a further five years, reflecting the success of the past events since the inception of Meetings Africa in 2004. "Meetings Africa has always been a signature event on the SCC calendar and we've no doubt that it will continue to grow in stature and in numbers in the years to come."
Eighteen African countries were represented at Meetings Africa 2017, which attracted 298 exhibitors, 177 international hosted buyers, 57 African association hosted buyers, and 126 local corporate hosted buyers. At the SCC stand alone, 108 meetings were held over two days. A large proportion of the hosted buyers, exhibitors, corporate visitors, and students from the Future Leaders Forum, were accommodated at Tsogo Sun's Sandton Sun, InterContinental Johannesburg Sandton Towers, and Garden Court Sandton City.
"South Africa is steadily moving up in the confex rankings and is placed 15th in the ICCA global ranking for long-haul business events, and first for business events in Africa and the Middle East," says Nadasen. "We are delighted that our partnership with Meetings Africa will see our country, and our continent, through the forthcoming years of development as an ideal confex location for global exhibitions and conferences."
For more information on Sandton Convention Centre, log on to www.saconventioncentre.co.za join the Facebook page on http://www.facebook.com/SandtonConventionCentre or follow on Twitter at @SandtonEvents
…ENDS
About Sandton Convention Centre
Sandton Convention Centre is located in the heart of Sandton's hotel, business and entertainment district. The centre offers easy access to more than 5 000 hotel rooms (ranging from economy to deluxe), is adjacent to some of the country's premium shopping and entertainment complexes (Sandton City and Nelson Mandela Square), which provides 10 600 secure parking bays.
Sandton Convention Centre offers unlimited potential with over 22 000m² of state-of-the-art meeting, exhibition and special event space. Purpose-built to international standards, the convention centre is able to host meetings, conferences, exhibitions and special events of virtually any size and nature.  It offers some of the most advanced technology available for convention and exhibition centres anywhere in the world. Multiple events can be staged simultaneously on four main levels, and 10 000 visitors can be accommodated at any one time. A team of highly trained staff is on hand to provide support services.
Its central position in Sandton provides easy access to Johannesburg International Airport, Gautrain rapid rail, the Sandton CBD, major hotels and shopping centres. Sandton Convention Centre was developed and is managed by Tsogo Sun, the leading hotels, gaming and entertainment company in South Africa, providing a vast variety of hospitality and exciting entertainment and leisure experiences. Combining an established heritage with a professional and energised approach, the group proudly encompasses 14 casinos and over 90 hotels in South Africa, Africa, Abu Dhabi and Seychelles.