All about cats at David Krut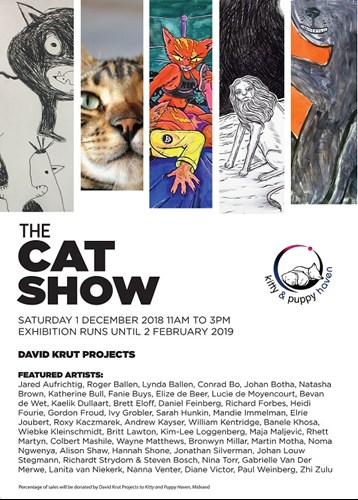 David Krut Projects presents The Cat Show, an exhibition of works by young and established artists. The year-end exhibition is in association with Kitty and Puppy Haven, and a percentage of sales will be donated to the charity at the end of the exhibition. Cat, and art lovers are invited to donate cat food when visiting the exhibition.
Through a range of artistic disciplines from painting, sculpture, design, illustration and photography, The Cat Show embodies the nature of cats in a quirky, curious, playful and memorable showcase.  This exhibition brings together cat and art lovers alike, to celebrate the feline form. The artists have explored the significance of cats, not only as artistic muse but as mystical creatures, enigmatic and poised between the domestic world and their nocturnal realm.
The exhibition is on at David Krut Projects, 142A Jan Smuts, Avenue, Parkwood


In association with Kitty and Puppy Haven, David Krut Projects is running a campaign to accept the generous donations of cat food for the duration of the exhibition and will donate a percentage of sales to Kitty and Puppy Haven as a commitment to give back to our feline inspiration.
___________________________
Gallery Hours: Mon-Fri 09h00-17h00; Sat 09h00-16h00
For more information contact info-jhb@davidkrut.com or +27 (0)11 880 6368